10Gr Boutique Hotel & Wine Bar is an adults only, atmospheric, stone built, luxury boutique hotel in the center of the Medieval City of Rhodes which is protected by UNESCO as a monument of world heritage.
Operating all year round, 10Gr Boutique Hotel & Wine Bar invites you to authentic experiences of Greek hospitality, wine tasting, excellent cuisine, relaxation and pleasure. The hotel is within walking distance from the Medieval Clock Tower, the famous Street of the Knights and the Grand Master's Palace.
Mandraki Port is just 450m away and the famous Deer Statues which were the basis of the Colossus of Rhodes statue just 900m. Enjoy moments of tranquility in your room or step outside where the vibrant nightlife of the island awaits you. The hotel is surrounded by restaurants, bars and nightclubs.
LUXURY & COMFORT
Rooms & Suites
Our rooms are dedicated to 10 Greeks that promoted the country through their achievements and made Greece famous abroad. Enjoy the privilege of staying in a stone built room with a history of more than 2.000 years, where design and comfort build a unique ambience. Our suites are dedicated to the 4 ancient cities of Rhodes Island, decorated according to evidence dating back to the excavation of these cities.
Wine Bar
Wine & Gastronomy
Wine production is a large part of Greek history and culture considering that Greeks have been making wine since 2.000 BC. The Mediterranean climate with the warm sunshine, the dry-lands and highlands, create the perfect terroir for excellent wine-making grape varieties. 10GR Wine Bar welcomes you to explore a selection of more than 250 wine labels from Greece's most interesting wine-growing regions! Balanced, dry, aromatic, fresh, fruity, exotic and unique for each occasion…from a special celebration to an everyday moment.
Restaurant
Indulge yourself in a culinary experience of quality and pleasure, in a cozy atmosphere, for moments of pleasure with your better half or with your friends. Enjoy comfort food of quality, cheeses and delicatessen from the rich Greek produce.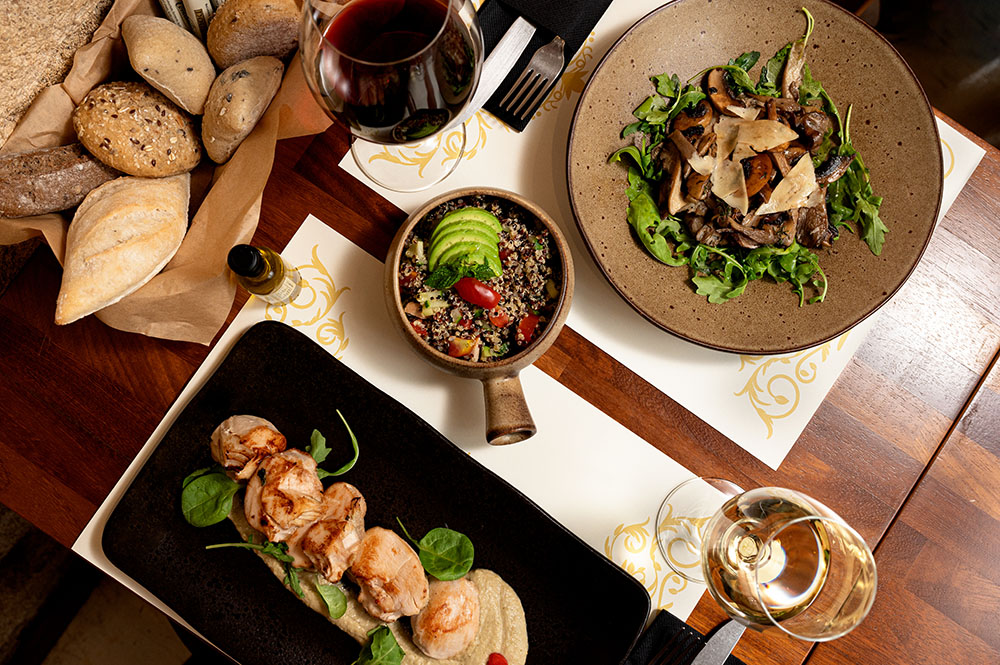 Rhodes, the cosmopolitan island of the Dodecanese complex is the 3rd biggest Greek island and one of Greece's top international destinations… with 300-plus days of sunshine, long sandy beaches, many attractions to explore and a variety of all year round leisure activities! With a rich cultural heritage since the ancient Greek world Rhodes hosted the Romans, Knights of Sain John, Ottoman Turks and Italians.